Yest named inaugural recipient of the Peter Ricchiuti Professorship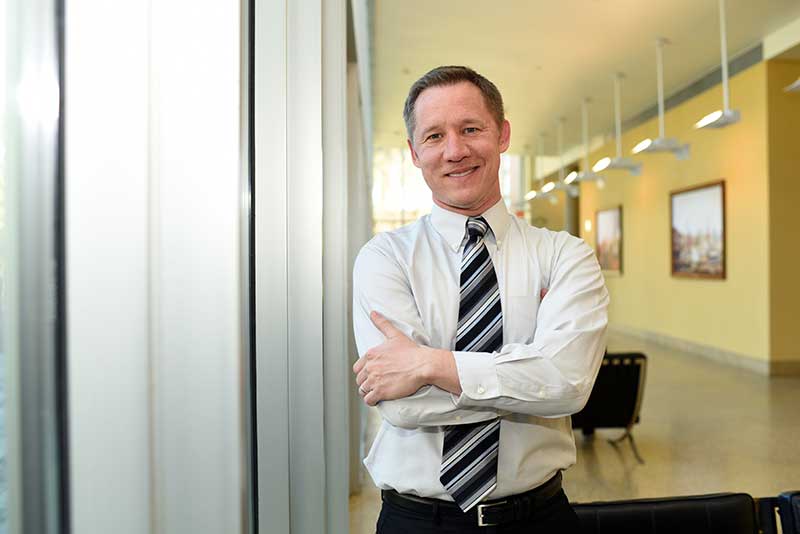 Over the past 25 years, Peter Ricchiuti has built the Burkenroad Reports program into a one-of-a-kind experiential learning experience. To celebrate his achievements and commitment to educational excellence, generous donors established the Peter Ricchiuti Professorship in Finance.
Senior Professor of Practice Myke Yest was recently named the inaugural Peter Ricchiuti Professor, a fitting tribute to his zest for giving students engaged learning experiences. Yest developed both of the Aaron Selber Jr. Courses in Alternative Investments.
"I try to teach in a way that is not just lecture-driven from a book," Yest says. "I incorporate alumni, guest speakers and experiences that push the students as close to the real world as possible while we're still in a classroom."
Burkenroad Reports is the nation's first university-sponsored securities analysis program, and under Ricchiuti's leadership, the program has educated and graduated many successful analysts and drawn widespread acclaim. Some of his former students and Freeman supporters recognized these accomplishments by endowing the Ricchiuti Professorship.
"What Peter is doing with experiential learning is absolutely unique," says investor Dewey Corley (L '70), who supported the professorship, Burkenroad Reports and the Selber courses.
Corley praised Ricchiuti's boundless energy. "He's just the most engaging, entertaining person and the students absolutely love him." In Yest, Corley sees the same kind of energy, the same kind of relatability.
Yest said the professorship is recognition that Freeman is committed to delivering educational experiences that are innovative and dynamic. "We're always thinking about other courses that we can add so that our students can be competitive when they graduate and start their finance careers," he says.
In addition to teaching many of the Selber courses, Yest also established Freeman Reports, a program similar to Burkenroad Reports that's offered to Master of Finance students.
Yest came to Tulane in 2000 to work on his doctorate in finance. He earned his PhD and then went back into the finance industry while continuing to serve as an adjunct professor. He now teaches full time while working part time as a financial consultant.
"I love the practical nature of working in industry, and I love working with students," he says. "What better way to pair it than to have these kinds of courses in which I can have industry professionals come in and work with my students in the classroom. It's kind of like having one foot in each world."
A named professorship is a high honor in academia, both for the recipient and the individual the professorship is named after. Given the close relationship between Ricchiuti and Yest — who have worked together on Burkenroad Reports and the Selber courses for years and whose offices are in the same suite — it's especially fitting that they're now linked through the professorship.
"I can't think of a better recipient of this than Myke Yest," says Ricchiuti. "Myke shares the same enthusiasm for teaching and a sincere interest in the lives of both current students and alumni. We're both big believers in all of the benefits of experiential learning."
Freeman School Dean Ira Solomon echoes that praise.
"We at Freeman are most happy to recognize excellence in engaged learning by awarding the Peter Ricchiuti Professorship to Myke Yest," says Solomon. "It's an appropriate and well-deserved tribute to their shared commitment to experiential learning."