Beta Gamma Sigma inducts newest members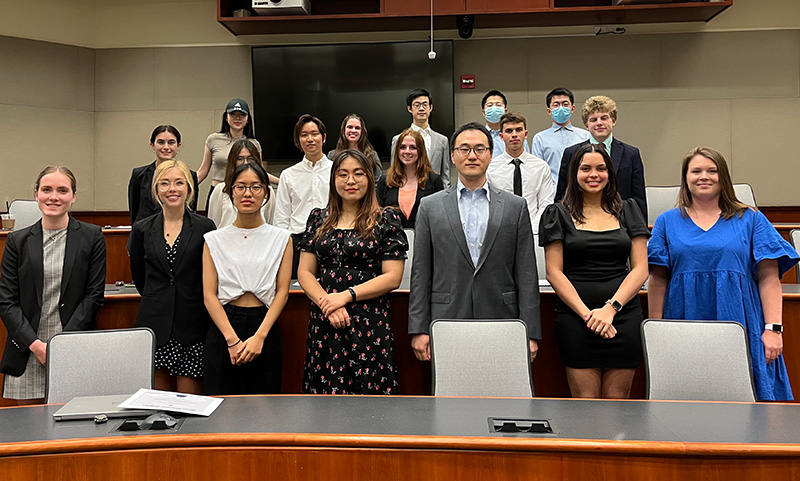 The Tulane chapter of Beta Gamma Sigma, the international honor society recognizing academic excellence in the study of business, welcomed its newest members on April 13, 2022. A reception in the Freeman School followed the ceremony. The inductees, and their programs of study, are:
Bailey Andras (BSM)
Seth Bangser (BSM)
Olivia Boccia (BSM)
Genevieve Brooslin (BSM)
Ran Chao (BSM)
Yudong Chen (MFIN)
Yuting Chen (MFIN)
Zhiyu Chen (MFIN)
Erin Daly (BSM)
Jie Gao (BSM)
Samantha Gotti (BSM)
Aidan Hussain (BSM)
Lillian Jorden (BSM)
Gwyneth Leung (BSM)
Ming Li (MFIN)
Shuangxin Li (MFIN)
Yang Li (MFIN)
Isabella Mannino (BSM)
Emily Mansour (PMBA)
David McCullough (MMG)
Rachel Menziuso (BSM)
Maximilian Motz (BSM)
Dachen Ni (BSM)
Celia Nistal Lozano (BSM)
Jillian Parish (BSM)
Rachel Rosenheim (BSM)
Qianyu Tang (MFIN)
Nicholas Taylor (BSM)
Michaela Traub (MACCT)
Chenkai Wang (MFIN)
Kexin Wang (MFIN)
Zifei Yang (BSM)
Hang Yu (MFIN)
Corinna Zengel (MACCT)
Meng Zhang (MFIN)
Haoxuan Zhou (MFIN)
Zilu Zhou (BSM)
Beta Gamma Sigma is recognized by the educational and corporate communities as the highest recognition a business student can receive in a program accredited by AACSB International—The Association to Advance Collegiate Schools of Business. Tulane's chapter was established in 1924.