2022 Freeman graduate sells startup for 8 figures with help from Lepage Center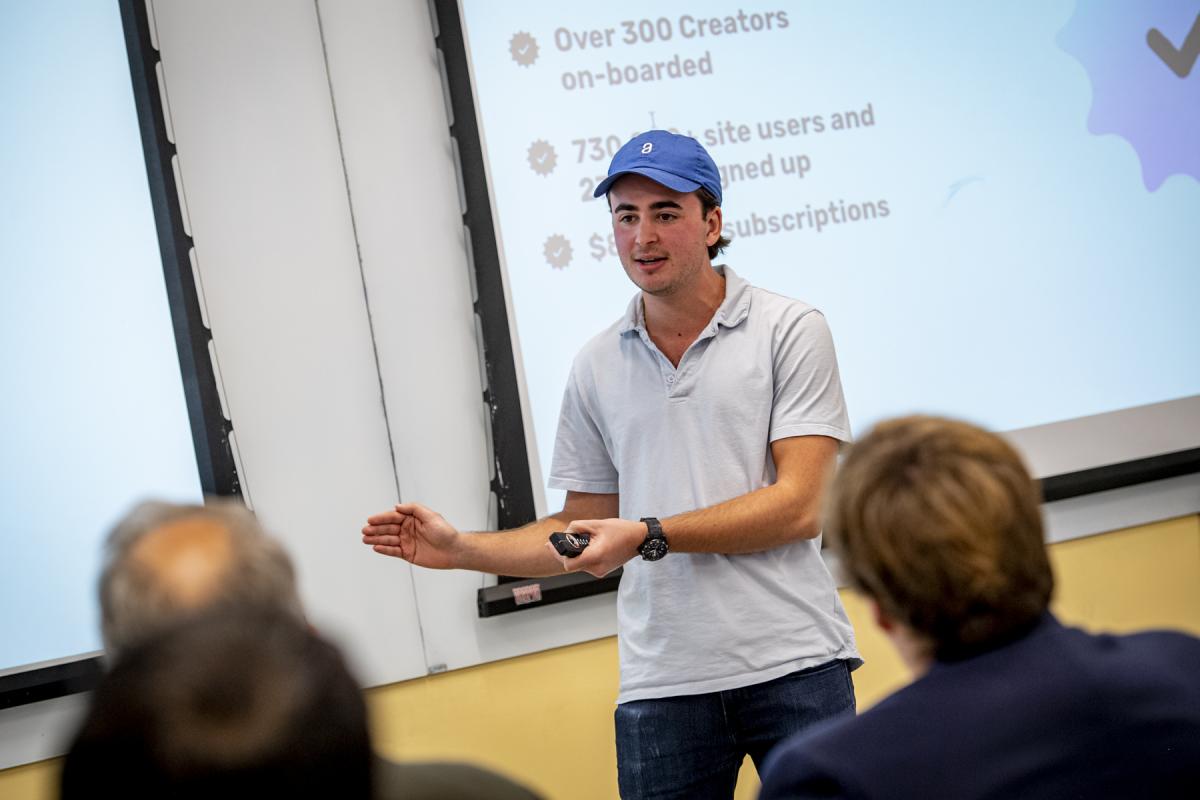 Harry Gestetner (BSM '22) graduated in May, with four successful years at Tulane University behind him, which included launching Fanfix, the tech startup he created less than a year earlier.
Last month, he sold it for eight figures.
He was just 21 years old.
Now as the CEO of Fanfix and Senior Vice President at SuperOrdinary, the company that purchased Fanfix, Gestetner is determined to make the most of the new partnership by continuing to dominate a market his elder generation never saw coming: The Gen Z creator economy.
Any advice for the rest of us?
"Take risks when you're young," Gestetner said. "Give yourself the opportunity to get lucky."
Gestetner succeeded because he saw a business opportunity where others didn't: social media was democratizing fame, and young people were deciding to make careers out of it, but it was nearly impossible for them to share in the value of the content they were creating.
Millions were using TikTok – a video-based social media platform where many young people went "viral," gaining thousands of likes and followers overnight.
But monetizing millions of fans was extremely difficult – until Gestetner created Fanfix, a subscription-style service where users pay to see clean, exclusive content from their favorite internet stars.
"What was so exciting about that time is everyone was trying to figure it out. We have all these new kinds of celebrities. This has never happened before," Gestetner said. "How do we help them monetize it?"
With that a new career was born: a "creator" – someone who posts photos and videos and generally shares their life online with thousands, sometimes millions of fans. Gestetner found a way to empower these content creators to make far more money than they could otherwise, thus turning their social media following into real revenues, not just clicks and page views that benefited Big Tech platforms.
"My view was being a creator in three to five years is going to be just as valid, legitimate and lucrative a career path as being a lawyer," Gestetner said.
Fanfix made that idea reality for hundreds of Gen Z internet stars. Millions of users and a thousand creators use the platform. Many of the stars who use Fanfix earn six figures. By the end of the year, some could reach seven.
The company officially launched the summer between Gestetner's junior and senior years at Tulane, and his plans to sell it were nearly final by the time he walked across the stage at Commencement this year.
So how does a college student create a multi-million-dollar business in only 11 months?
In this case, Gestetner found a silver lining in the early days of the COVID-19 pandemic.
During his sophomore year, Gestetner had co-founded a charity with his high school friend, Simon Pompan, which raised nearly half a million dollars for frontline workers and personal protective equipment. They led a team of 140 people, many of whom were Tulane students.
The charity got Gestetner named as one of the 40 most interesting students of 2020 by Promazo, a career service for college students. It also gave him a glimpse into what future fundraising for his startup would look like.
And when the time came, he made the most of COVID-19 shutdowns yet again.
"I was extremely lucky because school was online," Gestetner said. Normally, he would have flown to Silicon Valley, pitched venture capitalists, and returned in time for class the next day.
But in the era of COVID-19, "I could set up a 10:45 a.m. call, and they had no idea that I had gotten out of class a minute earlier," he said.
It created a huge advantage – but building a startup is never easy. As soon as Fanfix began to gain traction, Gestetner felt determined to succeed on all fronts, both by keeping up with schoolwork and growing the business as quickly as he could. He refused to take any time off from his studies, but he also didn't want to miss out on pursuing his entrepreneurial dream.
So Gestetner kept working, and he found ways for his coursework and other resources at Tulane to bolster his business. He didn't do it alone – he and Pompan were joined by internet personality Cameron Dallas – and he also found support from like-minded classmates at the Freeman School. The main help, Gestetner said, was Freeman's Albert Lepage Center for Entrepreneurship and Innovation, a hub for entrepreneurs at Tulane that supports students as they pursue their startup dreams.
Gestetner said the Lepage Center and Professor Rob Lalka were instrumental in connecting him with the New Orleans startup ecosystem and Freeman alumni who were investors and entrepreneurs – two vital networks that gave him new ideas, connections and insights. Ultimately, he met his first and largest investor through a friend and fellow entrepreneur at Tulane.
Crucially, he also joined Lalka's two-semester Student Venture Accelerator course during his senior year. He had officially launched Fanfix a few days prior, and the course helped him build the business with hands-on assistance from the Lepage Center's network of startup mentors, investors and other advisors. In that environment, he was also collaborating closely with peers following their own startup goals.
"We definitely built the business through the Lepage Center's incubator," Gestetner said.
Throughout his senior year, he worked closely with Lalka, the Albert R. Lepage Professor in Business and the Executive Director of the Lepage Center for Entrepreneurship and Innovation.
After the eight-figure exit, Lalka said, seeing Gestetner's progress in less than a year was "truly inspiring."
"He worked so hard all year, and he balanced the entrepreneurial drive to build a great venture with real curiosity and a love of learning," he said. "Students like Harry are the reason why I cherish teaching so much. He absolutely flourished here."
Gestetner said Lalka's connections and advice were crucial to Fanfix's success.  
"He's just a very smart business mind," Gestetner said.
Gestetner's time at Freeman also supplied him with a rich background in business beyond entrepreneurship. Accounting, legal studies and finance classes all helped him with the business knowledge he used to drive Fanfix to success.  
"As an entrepreneur, you've got to be a jack of all trades," he said. But "it gives you a good kind of general knowledge. When you're speaking to accountants, lawyers or bookkeepers, I think that background was definitely helpful."
Now that the deal with SuperOrdinary is public, Fanfix is working to make their business and partnership stronger than ever.
SuperOrdinary is one of the world's leading companies that connects brands with creators and consumers.
"They have absolutely the leading kind of social commerce platform in Asia," Gestetner said. "So to be able to partner with them was incredible."
So what's ahead for Gestetner?
"I see myself being an entrepreneur for the rest of my life," he said.  "And what an incredible journey it already is."