New dean plans to connect with the community
Ira Solomon thinks business schools should do more to address societal issues, and the newly appointed dean of the A. B. Freeman School of Business thinks Tulane University is just the place to take on that challenge.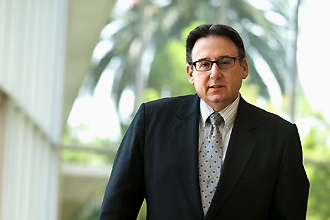 "The way in which Tulane has repositioned itself in terms of strong connections to the community is something that I find very interesting and intriguing," says Solomon, who officially began his tenure as dean on July 1. "I like the strategic direction I see the campus going, and I think the Freeman School is well positioned to move in that direction."
A native of Roosevelt, N.Y., Solomon comes to the Freeman School from the University of Illinois at Urbana-Champaign, where he was the R. C. Evans Endowed Chair in Business and head of the Department of Accountancy, widely regarded as one of the finest accountancy programs in the country.
He succeeds Angelo DeNisi, who had served as dean since 2005. DeNisi will remain at the Freeman School as a professor of management.
Based on what he's seen so far, Solomon says energy and accounting are two obvious areas with potential for growth, but before making any decisions, he plans to actively involve faculty members in the strategic planning process.
"It's not my style to sit here in the dean's suite and make decisions in isolation," he says. "My style is to engage my colleagues to systematically discover what makes sense in terms of investment areas."
In the short term, however, Solomon says one thing is clear: the business school needs to grow its faculty.
"We have 37 tenure-track faculty in the whole business school," Solomon says. "That needs to be about 50. We're going to need to hire a large number of faculty, and that's something that I think is an exciting opportunity for the Freeman School."