A Lucid approach to corporate culture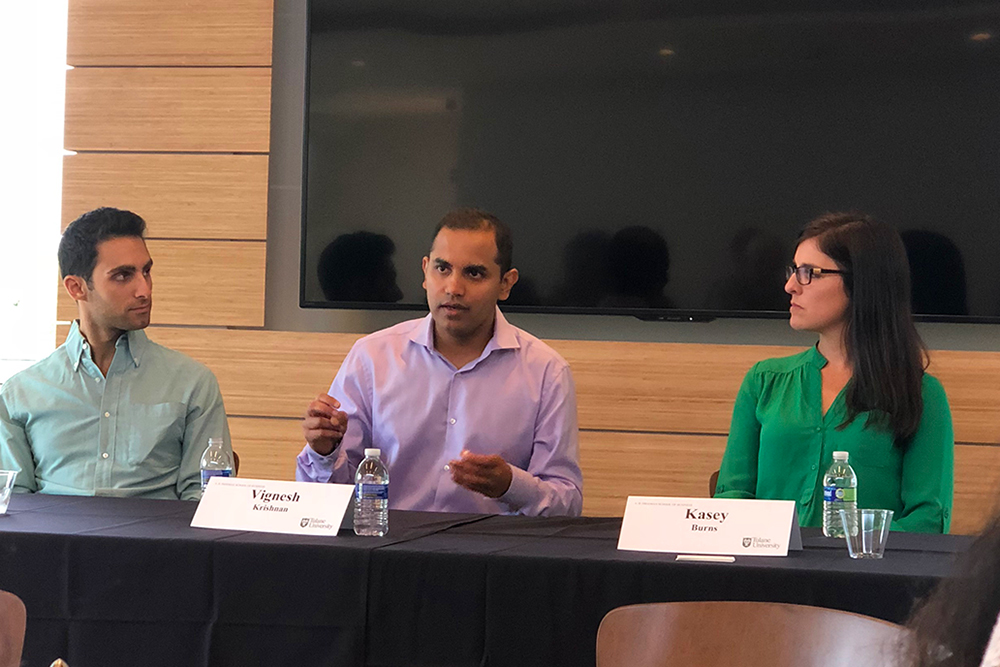 How do companies create successful, innovative cultures?
On July 11, a panel of employees from one of the most innovative companies around — technology firm Lucid — shared their thoughts on the company's one-of-a-kind culture in a special presentation for business students.
Kasey Bruns (BSM '07, MBA '13), Vignesh Krishnan (MBA '10) and Nick Stathopoulos (SE '13, SE '14, MBA '17) fielded questions on everything from how Lucid's culture contributes to the company's bottom line to how that culture is changing as the company grows.
One of the first things people typically notice about Lucid is the extraordinary freedom it allows its employees. Not only can team members wear anything they'd like to work, they can also do virtually anything they'd like to generate customer value.
"I don't have to ask permission to make a decision that will benefit my client," said Bruns, a senior account manager. "I can go to any member of our team and they will help me if I need to build something for that particular client."
"If you see a problem or an issue and no one's tackling it, if you want to tackle it, go do it," added Stathopoulos, a senior customer success manager. "Your leader will enable you and get you the resources you need."
Giving employees that level of autonomy may be perceived as risky, but Krishnan said the freedom is offered with the appropriate context. Lucid invests a significant amount of time interviewing prospective employees, a commitment that helps ensure team members understand the culture and know what's expected of them.
"We very much focus on finding the right people for the right seats," said Krishnan, vice president and chief of staff. "When you find the right people, they basically drive themselves forward and everything just happens."
Letting those people drive themselves forward has been a key component in Lucid's success. The company has doubled in size and revenues two years in a row and last year raised $60 million to fund expansion. Now with offices in the U.K., India and Australia, the company is working on leveraging and adapting its startup culture to meet the needs of a growing, multinational workforce.
While some growing pains are to be expected, Krishnan says the company has thus far done a good job balancing the freedom that helped establish the company with the control necessary for stable growth.
"If you paint the long-term picture and keep it abstract enough, the team will paint the picture within the canvas," Krishnan said. "I think that we have done a fairly good job of keeping our foundational values constant, but allowing people enough space to build on them. So far it has worked, but the journey is never-ending and we will keep working on it."
The panel was organized in conjunction with an innovative new course offered this summer to MBA/JD students. Co-taught by Adjunct Professor of Management Megan Guy (L'99, MBA'14) and Associate Dean John Clarke, the course focuses on professional development and leadership and explores the intersections of law and business. Throughout the course students explored topics by engaging directly with executives in a variety of settings and formats.
"In the last 15 or 20 years, corporate culture has changed from something static — either you fit in or you don't — into something that companies are actively and purposefully creating to attract better workers, create better teams and ultimately do better business," said Guy (L '99, MBA '14). "Lucid is a great example of that, and I think it was really interesting for our students to hear about how the culture is changing as the organization grows."